Welcome smart and trendy moms...welcome to the social parade...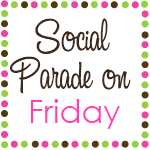 and all my other followers...I invite you to come to a cookie swap....and if your good... maybe I will share one of the cookie recipes with you.. What holiday parties do you have yearly? I like to have a wreath making...or a gingerbread decorating party....
she always has great free printables...
Can you believe.. that all the ladies.. made unique wreaths.. and I forgot to take one single picture of their finished product....?
my son fell asleep... and the cat curled up next to him.