T.G.I.F
Welcome Social parade and New friend Friday...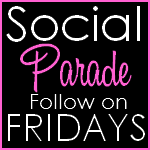 I made some delicious Toffee Bars for the church last night and wanted to share the picture and recipe...
35 Saltine crackers Nabisco Premium
1 cup of butter
1 cup firmly packed brown sugar
1 (6oz) bag of semisweet chocolate morsels
1/2 cup toffee bits, Heath Bits O brickle
1. preheat oven to 400 Line a 15 x 10 inch jelly roll pan with aluminum foil. spray foil with nonstick cooking spray. Arrange crackers in a single layer in prepared pan.
2. In a small sauce pan, place butter and sugar. Bring to a boil, stirring frequently, over medium heat. Reduce heat to low and boil for 3 minutes DO NOT STIR. Immediately spread butter mixture over crackers.
3. Bake for 5 to 7 minutes
4. Immediately sprinkle chocolate morsels over top, let stand for 2 minutes, or until melted. Spread melted chocolate over tops of crackers... Sprinkle with toffee bits. Lets stand completely ( about 1 hr) and break into pieces..
It's almost my 400th post and I am also giving away a $60.00 gift certificate if your interested follow the following link
http://nf1andpre-kwhisper.blogspot.com/2010/07/diningroomsdirect.html
Have a great weekend.