Follow Me Back Tuesday is another day of the week that you can gain more followers and find other great blogs to follow on a weekly basis. Follow Me Back Tuesday is hosted by
Survey Junkie
,
Little Yaya's
,
Review Retreat
and
Boobies, Babies & A Blog
.
Each week we will choose a random number every week from the blogs linked and add the random blog to the #5 spot to link to the following week ...
This weeks guest host for the #5 spot is
Sanity is Overrated
.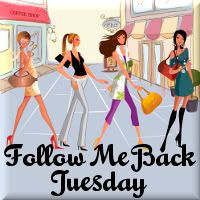 So this blog is a lot of photography, lots of cooking.... books and ramblings.... Look around and hope you see something you enjoyed..

I just have to share this...
Well, my broccoli looked like this until a few days ago.. and we picked some and ate some, and then I woke up to this....